I got a cigarette in my throat.
Smoke Gets In Your

Eyes

Threat
When I play in a live house, there are some sad things even though it's fun.
That's when there's cigarette smoke.I don't think smoking is always a daily occurrence in a live house, but sometimes there is smoke.
Based on the fact that many harmonica-playing people will go to a live house and play an active part in the future, I wrote with the hope that I can contribute to the health of harmonica players who are already active.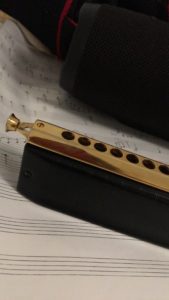 Playing the harmonica breathes more air. If you play harmonica, you can see that you may feel pain in your lungs without a throat...
And a few days after the performance, the smell of tobacco remains in the harmonica.After you get home, disinfect with alcohol or wash where you can wash it.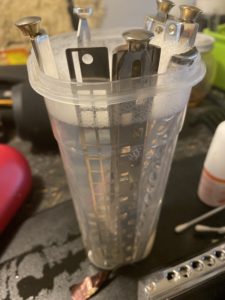 I think that everyone knows well that it is not very good when it is conscious of health.
I'll write down what's wrong again to see how it's not.
And i don't know.
If you find someone who plays t

he harm
onica... I hope that people who smoke will refrain

from smoking.

Thank you very much.
Isn't this a private matter, but a desire for everyone who plays harmonica?
What is passive smoking?
A person in the same space as

a smoker smokes other people's cigarette smoke.
It's cigarette smoke.
Smoke that comes out directly from the place where the fire is lit is called secondary smoke.The filtered smoke that smokers inhale is called mainstream smoke.
Secondary smoke contains a lot of harmful substances.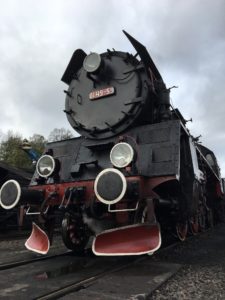 The following are the main substances of hazardous substances.
Nicotine cause

s contraction of blood vessels and poor blood flow.As a result, increased blood pressure and heart rate.Put a strain on the heart.
 

Carbon monoxid

e promotes lack of acid and arteriosclerosis.This may cause a decrease in activity or fatigue.
Contains more than 70 other carcinogens.
When the mainstream smoke is 1, secondary smoke contains about 2.8 times more nicotine, 3.4 times tar, and 4.7 times more oxygenoxide (according to the Ministry of Health, Labour and Welfare).
Soliloquy....

There are a lot of smokers who hurt their throats live.
There is tobacco smoke in the filled air😊💦
But it's not the no one to smoke. Can't take away their enjoyment.
Relax at home with aroma😊✨💗
Geranium and bergamot are my favorites

#ハーモニカのある生活より Twitter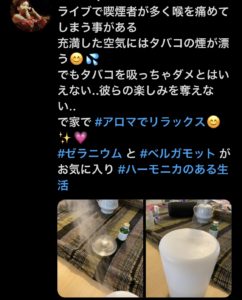 ---
Quote
Excerpts from the Ministry of Health, Labour and Welfare
The schedule for "Non-Smoking Week" for 2018 was written.
May 31st is World No Smoking Day
The WHO World Health Organization has decided from May 31 to June 6 that smoking is a non-smoking week.
The taste below
The impact of smoking on health is large, and given the risk of passive smoking and the dependence of nicotine, smoking habits are a health problem that goes beyond personal preferences, and tobacco control is an important issue in preventing lifestyle-related diseases.
In 1970, the World Health Organization (WHO) adopted the first World Health Assembly resolution on tobacco control, and in 1989 it designated May 31 as World No Smoking Day, and began a "Plan for Tobacco or Health" with the aim of becoming a common social custom not to smoke.The Ministry of Health, Labour and Welfare has also established a week of non-smoking from 1992 as "Non-Smoking Week" and has taken various measures.
In order to recognize the health effects of smoking by smoking in order to "eliminate smoking of minors", which is also the goal of the "Health Japan 21 (Second)" and the Basic Plan for The Promotion of Cancer Control implemented by the Ministry of Health, Labour and Welfare, the 2nd Conference of the Parties under the World Health Organization Framework Convention on Tobacco Control adopted the Guidelines for The Protection of Tobacco Smoke. In Japan, in February 2010, as a basic direction, we issued a notice stating that public places should be completely non-smoking in principle, and in FY2012, we issued a notice on thorough measures to prevent second-hand smoke.In addition, in the "Basic Policy for Promoting Measures for Preparation and Operation of the 2020 Tokyo Olympic Games and the Tokyo Paralympic Games," measures to prevent second-hand smoke have been clarified, and a team has been established and considered under the Liaison Committee of Ministries and Agencies related to the 2020 Tokyo Olympic and Paralympic Games.In addition, in order to prevent unwanted second-hand smoke, a bill to amend part of the Health Promotion Act was submitted to the Diet on March 9, 2018.
This year' s theme is "In 2020, aiming for a society free of passive smoking- Let's protect children from tobacco smoke" as the theme of smoking cessation and the spread of smoke-free smoking prevention, with the aim of protecting people from the adverse effects of passive smoking on health.
Non-Smoking Week Theme
"In 2020, aiming for a society free from second-hand smoke - Let's control children from cigarette smoke"
(Reference) WHO World No Smoking Day Theme: Tobacco Breaks Hearts -Choose Health,not tobacco
Period
From Thursday, May 31, 2018 to Wednesday, June 6, 2018
Ministry of Health, Labour and Welfare, Japan Medical Association, Japan Dental Association, Japan Pharmacists Association, Nurses Association
Hitoco