It is important to have a good lipstick💄 and measures against rough lips, and to blow the harmonica.In the case of women, I want to keep even a little makeup because I 👗 dress up with great pains.And, the article was written to raise the harmonica performance performance even a little because the man was dry and the lip was rough easily in the coming season.
So when it comes to lipsticks with good color.I looked for it a lot💄💄💄
I used to think that it was Guerlain or Chanel when I said lipstick with a good color.
However, this peculiar fragrance becomes a curse at the time of the harmonica, and I cannot use it.The unique fragrance of cosmetics is quite hard.So I can't use it.And if you use this, you won't be stupid for lipstick.
It's a waste to use lipstick like this because you can't slip the harmonica unless you lick your lips and get wet all year round.
If you play the harmonica, it's too early to repaint it if you think about it even if you think about lipstick with a good color.
I'd like to list what I think it's good to try various things there.I think there are still more things to do, but it's what I've got now.It has a very good color!!!
In conclusion, the lipstick tint system is the best one.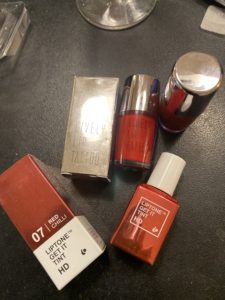 This was taught by my daughter, who was addicted to Korean cosmetics.The color is extremely good.However, it looks intense when I put it in a single color because it is a little too dark.So if it dries after applying tint to soften the color, it will be suppressed with another lipstick with pearls in it.If you look at the price when you write this article, it is very cheap.However, it seems to be quite wide from 500 yen to 2000 yen.(Great cost performance)
*Tint means "dyeing"
Tint my lips with red....
However, even though it is good to have, it is difficult to repaint the tin trip while playing.If you stick too much, you can make it to the harmonica, and it may get dirty all over your face while you're playing.
So at the time of the concert, I paint tint first and prepare a lipstick with a good color in my pocket for repainting.
The lipstick on the mat is good to have.
When I happened to forget my lipstick, I bought a matte lipstick, but it was a hit.I was surprised that the lipstick was very good.
Other crayon types of LeBron were also good.
However, the matte lipstick is a little stiff.Because there is a hardness to paint, it is very good when I apply it after moisturizing the lips themselves a little.(There is no problem because it is already after taking care during the live.))
Matt's lipstick doesn't stick cleanly if your lips are rough and dry.
Because it is good with the lotion applied to the face, I think that it is not usually attached to the lip, but please put the lid for moisturizing with the cream applied to the face once after applying the lotion consciously.If you're a man, you won't apply lipstick, so it's a good idea to moisturize with lotion before using lip balm, and then apply face cream to care for them.
You can blow the harmonica and protect your lips, which are getting rough!Soft lips are also important for playing.
Hitoco